About this event
The Colorado River Basin may be the most legislated basin in the world; this presentation will highlight aspects of the Law of the River that drive decisions in the basin and how water supply forecasts from the Colorado Basin River Forecast Center have evolved to meet the increasing decision support demands from area stakeholders.
JOIN WEBEX MEETING:
https://azwater.webex.com/azwater/j.php?MTID=mf0e4f7415a152d51299d136265c3094c
Meeting number (access code): 2595 860 3806
Meeting password: WAM2022!
JOIN BY PHONE: +1-415-655-0001 US Toll
Presenter: Paul Miller, NOAA Colorado River Basin Forecast Center
Paul Miller is the Service Coordination Hydrologist at the CBRFC, where he has been for 9 years. Prior to joining the CBRFC, he worked for the Bureau of Reclamation in the Boulder Canyon Operations Office for approximately 7 years. He received a B.S. in Environmental Hydrology and Water Resources from the University of Arizona, a M.S. in Environmental Engineering from the University of Notre Dame, and received his Ph.D. in Civil and Environmental Engineering from the University of Nevada Las Vegas, where he studied the impacts of climate change to the Colorado River Basin, in part, through the use of CBRFC hydrologic models and projected temperature and precipitation datasets.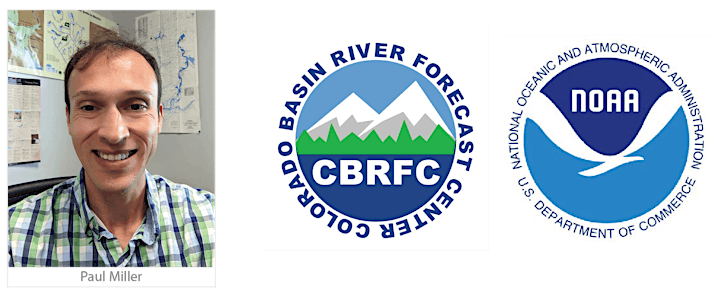 Virtual